------ SHORT NOTICE -------------------------------------------------------
Because Yahoo changed their free weather service, I switched to OpenWeatherMap.org to provide you with the current weather informations! I had to change many things internally and I'm not finished yet, f.e. the forecast is missing. OpenWeaterMap.org has a 5 day/3 hour forecast which is a bit more complex, so I have to think about how to show it properly.
---------------------------------------------------------------------------
This sbar module, shows the current weather informations for a selected location. You will see a small image representing the current weather condition, the temperature and a text describing the condition. I use the weather information from Yahoo
If you move the mouse over the sbar and wait some seconds, a bubble pops up, showing all available weather informations.
If you click with the left mousebutton on it, the weather information will be reloaded. If you click with the middle mousebutton on it, yWeather checks if there is a newer version available.
Since v1.19, yWeather will check 30 secs after the first sucessfull weather update, if there is an update available.
You can change the location in the Screenbar-Settings (right click on the screen-depth gadget, then choose "Settings"). Then click on "Yahoo!Weather" in the left list. The location parameter needs to be a WOEID, Who-On-Earth-ID.
To find your WOEID, type in your city name, country and or postcode (german: Postleitzahl) into the search gadget and choose one entry from the popup-list by double clicking on one entry.
The WOEID is than copied into the WOEID gadget, then press the Test button, to update the sbar.
The default location is Berlin/Germany.
You can also change the unit of the temperature to Celsius or Fahrenheit, and specify a color which is used for the weather condition. There is also the possibility to customize the format of the text, and how often the weather data will be retrieved.
Installation:
Use the Install script or do it manually:
copy contents of "SYS" to SYS: These are the icons for the weather conditions.
I used VClouds and resized them to 16 pixels height with ShowGirls.
You can replace them with your own images.
copy the catalog of your language to the appropriate directory in Locale:catalogs/.
Now you have to update the displayed sbars:

right click on the screen-depth icon (upper right corner of the screen)
choose 'Update List'
then select the new entry "Yahoo!Weather" in this screen-depth-menu
Here is a preview how it could look like:

Here is a screenshot of the settings: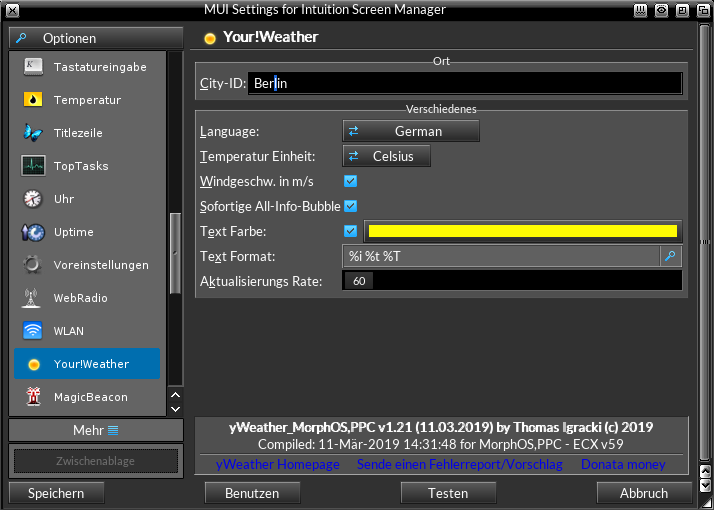 Have fun with it, and if you have some ideas/bug reports send it to yWeather(at)igracki(dot)de.